Community — Koinonia
"I give you a new commandment,
that you love one another.
Just as I have loved you,
you also should love one another.
By this everyone will know
that you are my disciples,
if you love one another."
- John 13:34-35

"Koinonia" is the mark of a Christian community that is seeking to keep Jesus' new commandment - to love one another as we have been loved by God in Christ. The word coin comes from the Greek word koinonia because it refers to the common currency of life. In Christian community the common currency of God's love teaches us to practice love of neighbour, love of stranger, even love of enemy. Here we are learning the ways of mutual respect and compassion, of telling the truth in love, and of seeking forgiveness and reconciliation.
The Welcome Table
We are learning not to think of the congregation as our church because it is Jesus' community. The church does not belong to us, we belong to it and to God. Instead of welcoming you to "our church" we invite you to join us at Christ's welcome table where we are all at home as God's children.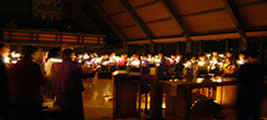 The congregation is made up of a wide range of people. Students join us while studying at UBC. Children take part along with elders. We include those who live and work in other parts of Metro Vancouver. There are people from differing Christian traditions and those with no Christian background. We seek to live in a way that is respectful of all.
Building Relationships
When you visit us you will notice that we linger when we gather on Sundays, taking time after worship to connect with one another in conversation. Throughout the year we find time to meet together, extending hospitality through shared meals.
Our email network is an important means of communication. Subscribers to the email list share news about our common life. Our Congregational Minister sends a weekly email newsletter to keep us updated. To subscribe, please send a message to our church secretary.
A Congregational Directory is available online to members of the congregation and those who attend regularly. For information on accessing the directory contact our office.
We gather in Neighbourhood Clusters (UBC/UEL; Kitsilano; Dunbar/Kerrisdale; East-side; & Metro Vancouver) as a means of supporting one another in a caring Christian community. Newcomers to the congregation find these gatherings to be a welcome door into the community.
Banner art is taken from the Christian Seasons Calendar. Thanks to our artists for 2015-2016