Proclamation — Kerygma
"Now after John was arrested,
Jesus came to Galilee,
proclaiming the good news of God,
and saying, 'The time is fulfilled,
and the kingdom of God
has come near; repent,
and believe in the good news'."
Mark 1:14-15
Christian life is a response to the news that in Jesus Christ the reign of God has arrived. This proclamation - "kerygma" - is the gospel message of good news that turns our lives around.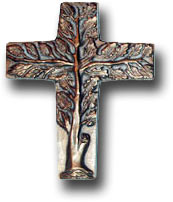 Declaring Grace
In each service of worship the presider announces the gospel. This succinct declaration of grace is preceeded by a longing sung prayer for mercy and is followed by a chorus of joy. The message of God's amazing grace is the turning point around which our life shifts from ache and longing to healing and rejoicing.
Telling Time
One of the ways that we remember that the good news in Jesus changes everything is by marking time differently. The ancient seasons of the Christian Year - Advent, Christmas, Epiphany, Lent, Holy Week, Easter and the Season after Pentecost - offer a distinctive alternative to the twelve months of the Roman calendar.
We publish a unique calendar that begins not on the first day of January but on the first Sunday of Advent (four Sundays before Christmas). The pages of the calendar do not turn with each month but with each new Christian Season. The Salt of the Earth Christian Seasons Calendar is a proclamation that invites us to live our lives in a new time, a time when God's kingdom is near at hand in Jesus.
Friday, Saturday, Sunday
The congregational speaks of the gospel life as one that leads usthrough the three days of the Easter weekend: Christ's crucifixion on Good Friday, God's silence on Holy Saturday and the shocking re-orientation of life caused by the resurrection of Jesus on Easter Sunday. We are reminded that a gospel people trusting its life to the God met in Jesus Christ will know terrible loss, holy waiting and extraordinary newness.
Sending Out
In its calling to proclaim the gospel, University Hill Congregation commissions its Congregational Minister and others to speak and to provide leadership in various settings. This ministry of proclamation is one way in which we seek to practice what we preach and to preach what we practice.
Banner art is taken from the Christian Seasons Calendar. Thanks to our artists for 2015-2016