Worship — Liturgia
"Remember the sabbath day,
and keep it holy"
- Exodus 20:8
Sunday at 10:30
Our life is rooted in worship. The bell rings each Sunday morning to signal our 10:30 gathering. Some come dressed up, others dress casually. The Greek word for worship is "liturgia" - a public work undertaken by some on behalf of all. In worship we turn to God on behalf of the world.
Chapel of the Epiphany
The stone front wall of the Chapel and its windows opening onto the mountains help to make it a sanctuary - a zone of safety - with God.
Children in Worship
Children join us for the first thirty minutes of worship. Those age five and under are welcomed into our Little Ones ministry where they receive a caring entry into Christian community. From September to June there is a class for those ages six through twelve ... more
Gathering after Worship
Following worship refreshments are served. Many linger in the Chapel to meditate and to visit with one another.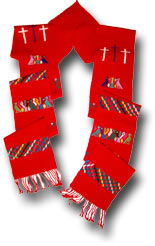 The Peace
"The peace of Christ be with you" ... "And also with you"

To begin worship we extend our hands in a ritual of hospitality. The peace of Christ is the promise that no suffering is carried alone.
Celebrating the Eucharist
We celebrate the sacrament of Communion - the Eucharist (meaning "thanksgiving") - on the first Sunday of the month, except when a new Christian season begins in that month. In Advent and Lent we celebrate Communion weekly. We invite any who wish to come to the welcome table of Jesus as one of his disciples to do so. While baptism normally preceeds participation in the Eucharist we understand that some experience a call to come to the table prior to baptism. If you have questions about participating in the Eucharist please speak with our Congregational Minister.
Rites of Passage
We welcome inquiries about baptisms, marriages and funerals ... more.
Worship Leadership
On most Sundays our Congregational Minister presides and preaches. Our Minister of Music accompanies worship at the piano and the organ and welcomes the participation of those who play other instruments. The Singers gather for rehearsal on Sunday mornings (September through June) at 8:45 to prepare to accompany the congregation's singing. A Worship Elder offers prayers on behalf of the congregation. A Lector carries in the Bible and lights the candles to open the service and reads the scripture during the service. Welcoming Elders along with a Worship Coordinator also serve, helping to make worship a work of the whole people of God.
Worship Leader's Handbook
We have created a handbook for use by those who provide leadership in worship. Copies of the Handbook for Worship Leaders are available from our office. Some pages are available online: Welcoming Elder; Lector; Worship Elder; Presider & Preacher.




Banner art is taken from the Christian Seasons Calendar. Thanks to our artists for 2015-2016